Index
Overview
Permissions are your way of controlling who has access to what on your site. Each admin-side page and many of the features will require specific permissions in order to access them. Using this to your advantage, you can offer your team only the exact level of access they require to accomplish their tasks. The more refined your groups are, the more clarity you will have as to who has accomplished what around your site.
The Permissions page is found by navigating to Settings > Permission. In order to access the Permissions page you will need the following permissions: Admin, Manage Permissions.
Lite
Bronze
Silver
Gold
Enterprise
Some features in this article may only be available on certain tiers.
Video Guide
Permission Groups
Permission Groups allow administrators to group and categorize their team members. They allow for rapid addition or removal of users and permissions alike, effecting individuals or large groups at the click of a button. By default, Uplifter starts you off with 2 permission groups: Full Admin Access and Instructors.
Create a Permission Group
To create a permission group please navigate to the Permissions page. On the right hand side of the toolbar, select
​ Add Group. This will generate a new group that you can then name by enter the desired name into the Group Name field. Be sure to select Save to keep your new group!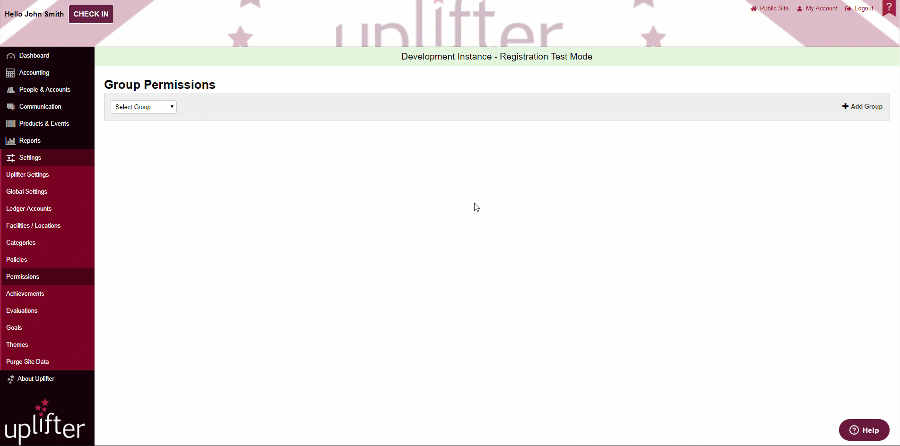 Edit a Permission Group
You can edit your new or existing permission group in many ways. In order to begin adjusting a permission group please select it from the drop down menu at the far left of the toolbar.
Group Name
You can update the group name any time by adjusting the Group Name field as desired.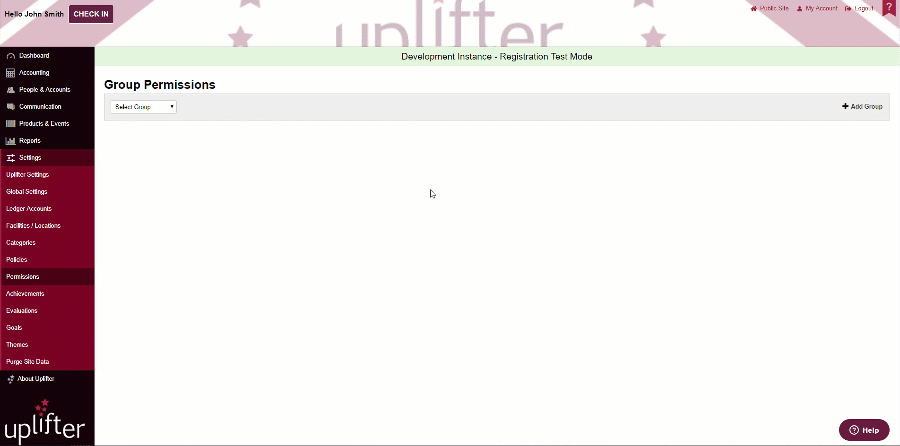 Group Members
You can update the group members by beginning to type their names into the Add to Group field. The system will suggest a list of option - select the correct user from this list to add them. To remove a user from this list simply select Delete next to their name.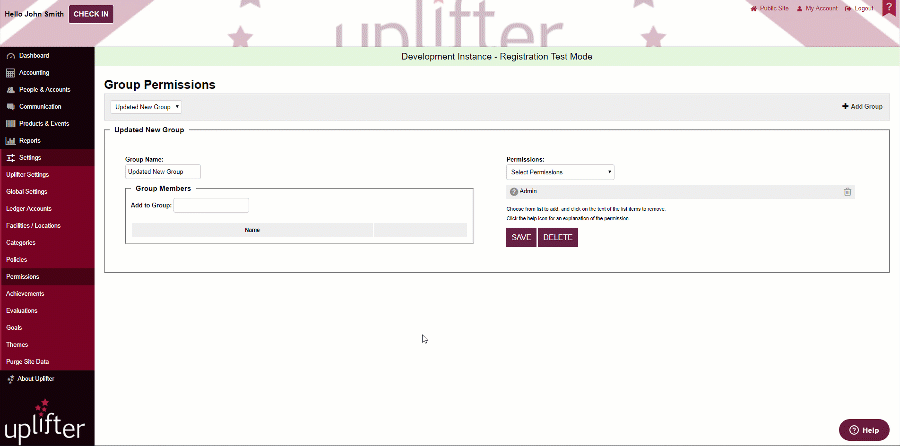 Permissions
You can update the group's permissions by using the Permissions drop down to the right of the page. This drop down will list all possible permissions. By selecting one from the list you will add it to the group's permission list. To remove a permission select Delete beside the permission listing.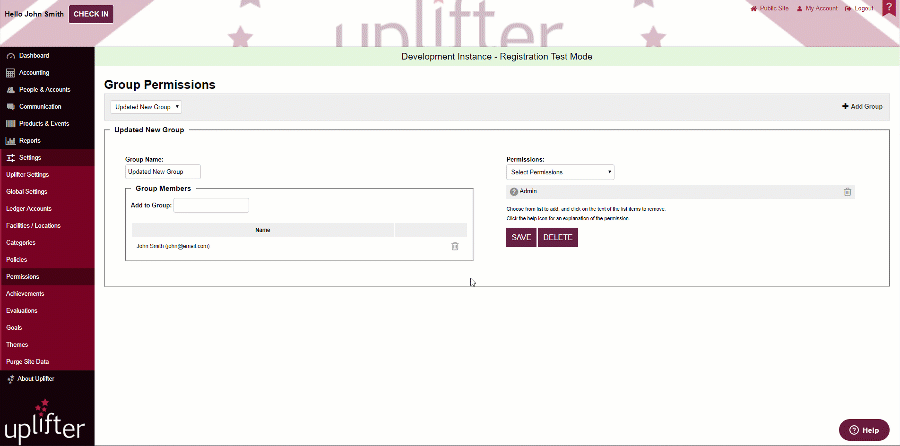 Delete a Permission Group
To remove a permission group in it's entirety first select the permission group from the
Select Group
drop down along the toolbar. Next, select
Delete
, located at the bottom of the permission list.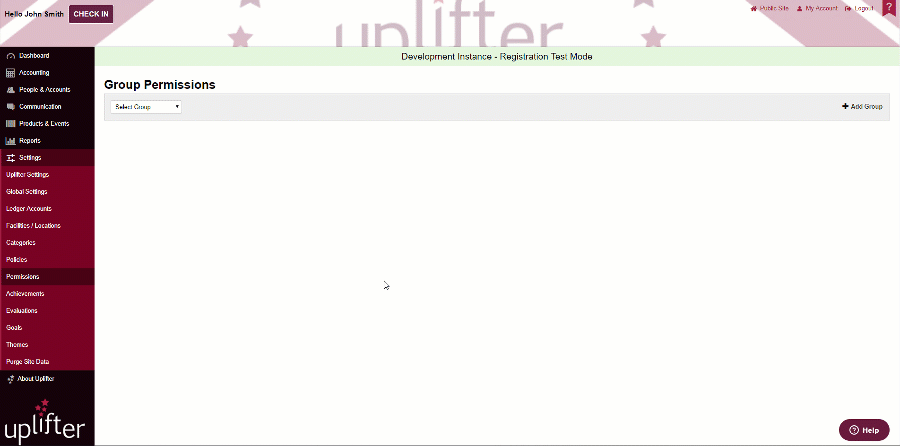 Invite Members
Selecting the Invite A Member

icon will allow you to send an email invitation to the email you provide in the form. You may also set the permission group that those users will be placed in. By opening the email and following the link within to create a new member account (or log into an existing one), the invited member will join the specified group.

Uplifter Lite & Permissions
Navigate to People & Accounts > Member Accounts
Select your desired member to enter their account
Add the Full Admin Access permission group to their account
Learn More

Organizations using the Uplifter Payments tier will not have access to the standard Permissions page. Because of this, they cannot make new groups outside of the system default: Full Admin Access. However, they can still determine who has this level of access through the member's account.
To do so, please navigate to People & Accounts > Member Accounts and select your desired member to enter their account. In the account, use the Member Permission Groups field to add the Full Admin Access permission.
Example Groups
Every club and organization will be a little different. That's why Uplifter gives you the control and flexibility to offer your team members varying degrees of access to your Uplifter site. We highly recommend that you experiment and review your permissions regularly.
Here are a few examples of how clubs may want to setup their permission groups. You may want to create a series of test accounts for yourself or have members that are amenable to testing that you can add to these created groups so you can see what members of these groups may or may not have access to.
Full Administrator
By default, Uplifter provides you with a Full Admin Access permission group. If you initiated your organization's Uplifter site, you are part of this group automatically. The Full Admin Access group has all but two permissions automatically allotted in the permission manager. This gives them complete access to the site save for Can Send Out Non Opt Out Messages.
Treasurer/Accountant
A Treasurer/Accountant permission group would likely want to offer the user access to accounting information, reports, and invoice access. They may also be in charge of setting up and connecting your online payment gateway. You might offer your treasurer/accountant the following permissions:
Admin
Beta Orders
Edit Invoices
Manage Discounts
Manage Invoices
Manage Merchant Credentials
Manage Payments
Manager Reports
Manage Tax Receipts
Head Coach
A head coach may have more control and access over the site than a standard coach. You may want to give them access to your participants and their associated member accounts, emailing, evaluations, and perhaps program management. You might offer your head coach the following permissions:
Admin
Can Perform Evaluations
Manage Emails
Manage Evaluations
View Members
View Program Participants
View Programs
Coach
Your standard coaches may have a little less access than your head coach. In this instance, you might want your coaches to be able to perform evaluations, and view and interact with their assigned participants. You might offer you coach the following permissions:
Admin
Can Perform Evaluations
Track Coach Only Member Details
View Participants (Coach Specific)
Manage Public Content
Your content editors take care of the public side of the site. Because of this, you will likely want them to have access to all fun customization tools Uplifter offers. You might offer your content editor the following permissions:
Admin
Edit Posts
Manage Public Content
Manage Site Theme
Early Registration
Many clubs and organizations like to offer a select group of participants early registrations. If this is the case, you would keep your programs in Beta status and add your desired members to a group with Beta permission. Be sure that any program you don't wish to offer are either filtered off your registrations page or are set to Unavailable.
Permissions
Below is an exhaustive list of permissions, along with notes about which pages a user will be able to access once granted said permission. Please note, the Admin permission is needed in order to gain access to the admin side of the site. As such, many of these permissions will not grant access to anything until the Admin permission is also granted.
Can: Able to perform unique task or use unique features.
Edit: Able to edit (and sometimes delete) the associated elements. Requires its View counterpart to access the page.
Manage: Able to access, create, edit, and delete the associated elements.
View: Able to view the associated page/elements.
Permissions List