Uplifter has added functionality that can help you with setting up Test Day Registrations. There are many different ways that you could setup a Test Day registration and it depends on how your club would best like to track and manage the process for your administrators and your members.
Our Goal Is to Just Collect the Test Day Fees - No Scheduling in Uplifter
If all you would like to do is collect test fees regardless of which test it is that the skater is scheduled to test, create a programs or product for the amount of the test (assuming your tests are $10). If you set it up as a program (see the Create Programs page), you will need to setup multiple programs for the number of possible tests a skater may test for as a skater can only register in each program once. You can set up the programs to as "1st Test", "2nd Test", "3rd Test" etc. Alternatively, you can just setup a Product (see the Create Products & Subscriptions page) and have the members add the product multiple times to their shopping cart. You can then pull a Products & Subscriptions report to see how many members have paid for their tests.
Our Goal Is to Have Members Register for Their Specific Tests and Schedule the Tests
Once you have determined from your coaches who will be testing which tests (or even if you have setup your test day schedule), you can create a program (see the Create Programs page) for each individual test.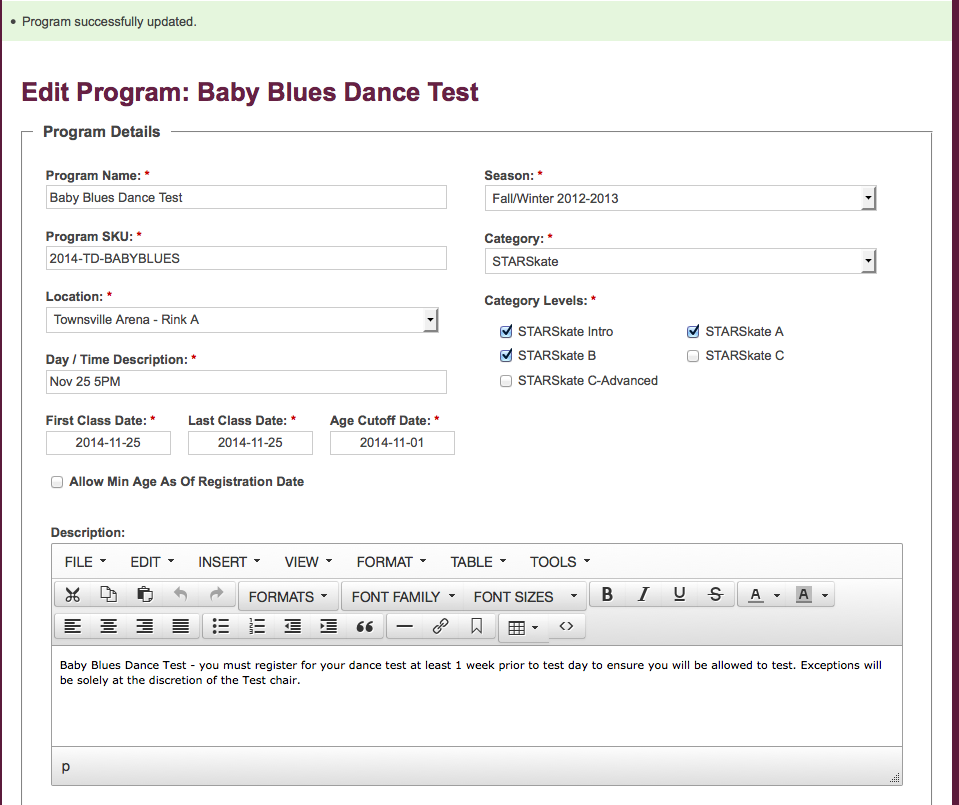 Specify an easily identifiable Program Name, like "Baby Blues Dance Test"
You can set them up under a separate category level so members can easily find them on your site (maybe STARSkate Tests) or set them up under the existing category levels you have already created.
If you have your test day schedule ready, you can set the Class Start Time and Class End time to your scheduled times. Alternatively, you can set it up to start at the beginning of the day and end at the end of the day and update the time of the event later on.
Do not enable prorating or installments
Click "Create"
If you would like to specify which members can register specifically for each test, you can set requirements for each program you have created. After you have created the program above, search for the program and click the Edit icon (

 ). scroll to the bottom of the program edit page down to the "Requirements" section.
Click on the "Tools" icon (  ) beside the SKU and click "Add Requirement Group"
Click on the "Tools" icon (  ) beside the text for the new group that says "Require All of" and click "Add Requirement"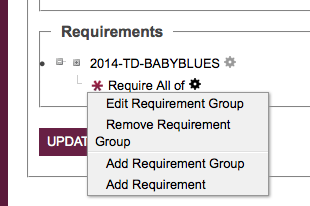 In the popup window titled "Create New Requirement", select "Achievement" in the "Type" drop down and begin typing a new achievement name - it can be generic to all your tests like "Scheduled for Test Day" or specific to this one test "Testing Baby Blues"
Click "Add Requirement"
Click on the "Tools" icon beside "Require 0 of" and select "Edit Requirement Group"
Change the drop down to "All" under "Number of required pre-requisites" and check off "Required to Enroll" and click "Update Group"

Completing these steps will prevent anyone from registering for the test unless you have added the achievement you have created above to their skater profile:
Navigate to "People" > "Participants"
Search for the skaters you would like to add to the above achievement to
Click on their name to view their Participant profile and click on "Achievements"
Beside either the applicable category level you may have created or any other category level, click the Add icon
In the "Add Achievement" popup window, begin typing the name of the achievement you identified above and select it when it appears in the auto-complete box
click "Add Achievement"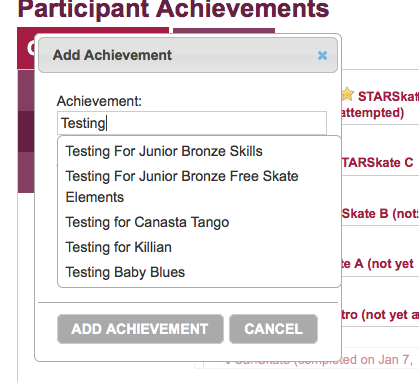 Now, only skaters that have these achievements added to their skater profile will be allowed to register for the tests. Members will also be able to log in, view their skater's profile and under the Achievements tab, they will be able to see which tests their skater should be testing.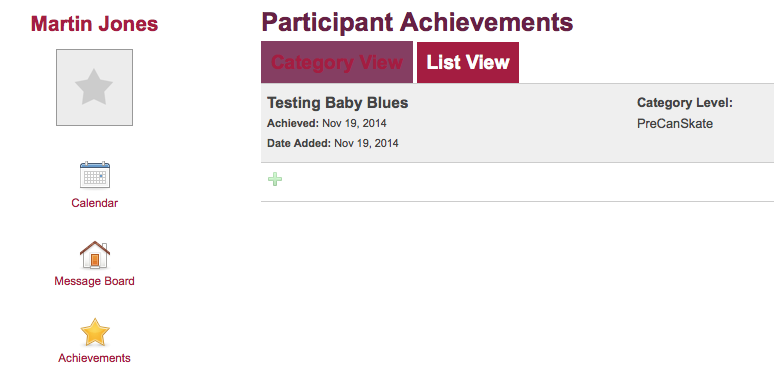 Once skaters have finished their tests, you can go into their skater profiles, remove the testing achievement and then add the actual test achievement if they passed their test.
By setting up each test as an individual Program and setting up requirements for the tests, it prevents members from registering for tests that they shouldn't be and allows skaters to be prepared ahead of time for which tests they will be testing. You can pull participant registration reports for your test chair to verify that their fees have been paid prior to test day.
If you charge a different fee for subsequent tests (e.g., $10 for the first test and $5 for each additional test), you can create a discount to manage the pricing for this. See our guides for Discounts for more information.