Overview
To begin taking online payments through Uplifter your club must have a payment gateway and merchant account with Bambora. For new organizations, we recommend that this process should be performed in tandem with your standard Uplifter setup and should conclude before opening your live registrations.
The Merchant Credentials tab is found by navigating to Settings > Uplifter Settings > Merchant Details. In order to access the Merchant Credentials tab you will need the following permissions: Admin, Manage System Settings, Manage Merchant Credentials.
Lite
Bronze
Silver
Gold
Enterprise
Frequently Asked Questions
How do I resolve a "Duplicate match on payment information" error?
Log into your Bambora account
Navigate to Configuration > Payment Profile Configuration
Uncheck (deselect) "Do not allow profiles to be created with card data duplicated from an existing profile"
Select Update
The "duplicate match" error indicates a small error in your Bambora account configuration. Correcting this issue will require you to log into your Bambora account and navigate to Configuration > Payment Profile Configuration. Here, under "Credit Card Settings", deselect (uncheck the box) "Do not allow profiles to be created with card data duplicated from an existing profile". Select Update at the bottom of the page to save your changes.
How do I resolve a "SERV NOT ALLOWED" error?
This error is typically presented when a card is rejected by Bambora. This rejection could be for a few reasons, such as:
Your Bambora account is in test mode and a real card was used
Your Bambora account is in live mode and a test card was used
A credit/debit card was used

*
* note that both credit and debit cards can be used through Bambora. However, they both have their individual processes and your club will need to register for an Interac account before you can process debit.
Connecting with Bambora
Connecting with Bambora has never been easier. With our dedicated representative, Garry Thomson, you can reach out, get setup, and get your system connected in a matter of days. To create a Bambora account please:
Connect with Garry
Reach out to Garry Thomson
by email at garry@uplifterinc.com or directly by phone (778) 400-0688
to begin your Bambora process. He will guide you through what is required to begin and complete the process.
Ensure You Meet The Minimum Requirements
Bambora has very specific requirements that your club/site must meet before your Bambora account will be approved for live. To ensure you meet these requirements you will want to
create a Terms & Conditions page
with the following items:
Legal name and "Doing Business as" name (or DBA)
The currency of the transactions on your website ("All transactions will be completed in Canadian (or US) Dollars")
The country where your club is located (This can be added to your contact us page)
Club support contact information for transactions, including mailing address, email address and telephone number (Can be added to your terms and conditions or your contact us page)
A return / refund and/or cancellation policy and instructions (eg. "All programs are eligible for a full refund up to the program start date listed for each program registration. Please contact the club office to process your refund." or "All programs are eligible for a full refund up to the withdrawal dated listed for each specific program. Please contact the club office to withdraw.")
Export restrictions – (very simply: "We do not export any goods or services")
Delivery policy for any goods or services (e.g.: "All programs will take place at the location indicated in the program registration. We do not offer any products for purchase one this site." or "All programs will take place at the location indicated in the program registration. Any products purchased on the site will be available for pickup at the club office within 48 hours of purchase.")
Terms and Conditions for registering with your club (this can be incorporated into your policies on Uplifter and in the general terms and conditions of your site you can add something like "Additionally to the general terms and conditions, you will be required to accept the policies as required by each particular program during your registration process")
Privacy Policy (what do you do with your member information and do you share it with anyone, for example, a national governing body that you are affiliated with?)
You will also want to ensure you have created a few programs within your system with their pricing visible. Bambora will also request that you have credit card branding visible for all accepted cards. This can be configured along with your Bambora Merchant Details when connecting your two systems. Checking off the icons to display will add them at the time of checkout and you can also include them in the footer of your site by selecting "Display Payment Providers" under Settings > Global Settings > Look and Feel under the section Navigation / Links > Footer Payment Providers Icon
Submit Your Bambora Application & Create Your Account
As you work to complete the final steps of the process please feel free to reach out to Garry for status updates or next steps. Once you have all forms and elements completed you can then submit this to Bambora. They will then review and, assuming all is well, approve your account.
Once approved Bambora will forward an account setup email to your provided email account. Follow the link inside the email, create your account (one for each currency you accept), then set a password. You will have a 3 hour window to set a password. Should you fail to do so please place a request with Bambora to re-initiate the process.
As soon as your account has been properly connected to your bank account you will receive an email from Bambora with the subject "Authorized For Live". This may take 1 - 3 business days.
Testing Vs. Live
Bambora can often use similar terminology when it comes to your account being activated and your account being set to live. As such, you will want to verify with their support team (or Garry) that your account is in testing mode. If this is true, you will be able to use the test credit cards, found below. If your account is live then you will not be able to use the test cards below.
Configuring Your Bambora Account
To begin configuring your Bambora account within Uplifter please navigate to Settings > Uplifter Settings > Merchant Details (Ensure you possess the Manage Merchant Credentials permission, in Settings > Permissions, to be able to access this page). Scroll to the bottom of the page to find the Payment Methods section. Ensure the Payment Methods tab is selected and select the Bambora Credit Card option, currently in yellow.

To connect your Bambora account to your Uplifter account you will want to fill out the fields within the form.
Standard Fields
The majority of the fields used for configuration do not requie you to log into Bambora. These fields are:
Public? Set whether or not this payment option is public. As you are first connecting your Bambora account, we suggest unchecking this option. This is especially true if you are connecting your Bambora account with an active registration season.
Reporting Name: How payment methods appear in reports details and the bottom of invoices
Checkout Text: Button text displayed in the checkout for this payment method
Payment Type: Determines the behaviour of this payment method, including payment statuses and when it can be available.
Advance Notification Days? Number of days in advance to send a payment reminder notification to members. No notifications will be sent if set to 0. Customize your notification message under Settings > Global Settings > Notifications Tab.
Display Icons: Select which icons you would like to display at checkout. You can also have these icons appear in the footer by enabling them under Settings > Global Settings > Look and Feel > Navigation / Links.
Note: If you would prefer to not offer Amex we recommend simply not displaying the card icon for Amex. Alternatively, you can truly restrict Amex by requesting Bambora update your account, but this can extend your setup and possible cost additional fees.
Merchant ID
Log into your Bambora account
Copy your Merchant ID (top right)
Paste the value into your Merchant ID field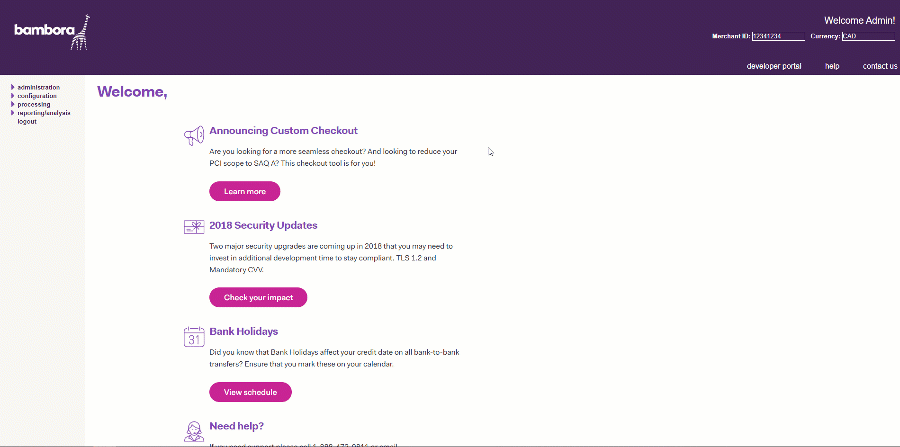 Profile API Access Passcode
Navigate to Configuration > Payment Profile Configuration
Select the API Access Passcode radio button
Select the Generate New Code button
Select Update
Copy the value from the API Access Passcode field from Bambora
Paste the value into your Profile API Access Passcode in Uplifter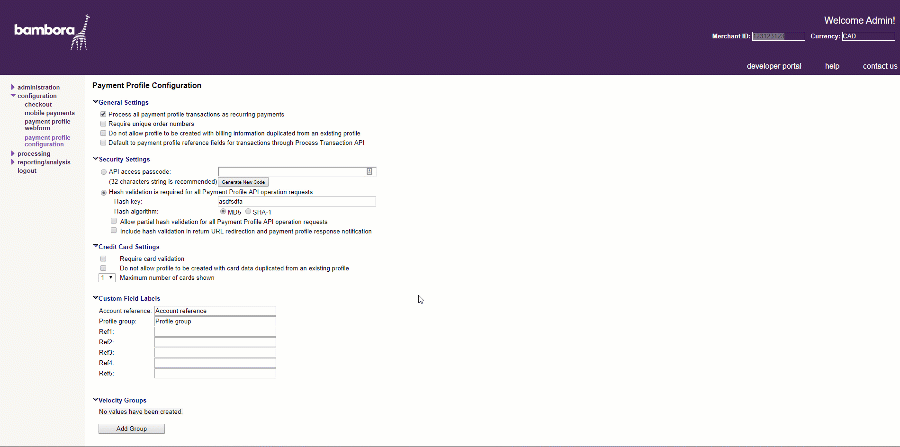 Additional Required Changes
Navigate to Configuration > Payment Profile Configuration
Disable Do not allow profile to be created with card data duplicated from an existing profile
Toggle Require Card Validation as desired (likely disable)
Select Update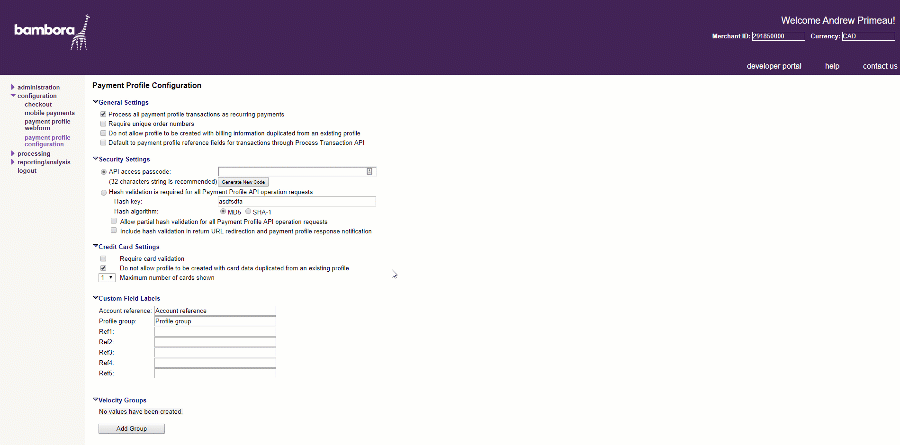 Navigate to Administration > Account Settings > Order Settings
Check Billing Address Optional and Card Owner Name Optional
Select Update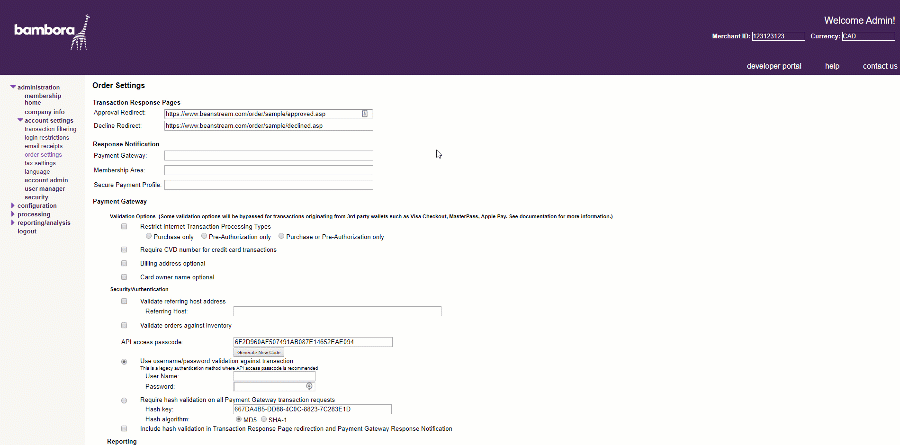 Navigate to Configuration > Payment Profile Webform
Uncheck all items listed under Form Setup, except for "Include Credit Card Information"
Select Update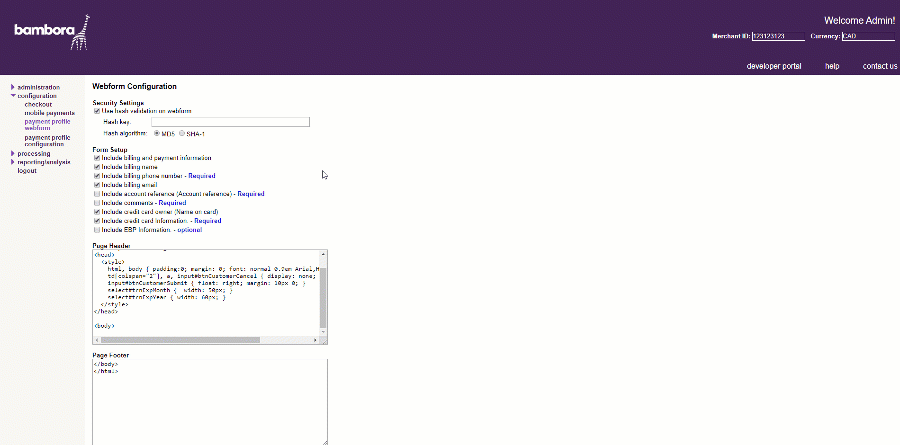 Once you've completed filling in the form be sure to select Save All at the bottom of your Uplifter page! Learn more about payment methods and payment method groups in our article Payment Methods.
Help! My Bambora Account Has Been Locked Out!
Note that if Bambora detects 3 incorrect access attempts with a set of credentials, your Bambora account will be locked out for 15 minutes. If this occurs, try reconfiguring all of your values (you may want to reset them), save them, wait 15 minutes and try testing again. Every subsequent access attempt within the 15 minute lockout period will reset the 15 minute timer. You may want to deselect the "Enable Bambora Gateway" checkbox and save to ensure no one else testing your site is attempting to make credit card payments to prolong this process further.
Testing Your Bambora Account
Once your Bambora account has been successfully connected to your Uplifter site you will be ready to begin testing. To do so, you will want to use the list of test credit cards found below. Our article Going Live will also assist you in your testing process.
Test Credit Cards
| | | | |
| --- | --- | --- | --- |
| Card Type | Credit Card Number | Expiry Date | CVD |
| Visa | 4030000010001234 | Any valid date | 123 |
| Visa | 4012888888881881 | Any valid date | 123 |
| Visa (has $100 limit) | 4504481742333 | Any valid date | 123 |
| Visa (will always decline) | 4003050500040005 | Any valid date | 123 |
| MC | 5100000010001004 | Any valid date | 123 |
| MC | 5194930004875020 | Any valid date | 123 |
| MC | 5123450000002889 | Any valid date | 123 |
Testing Notes
During test mode, none of your test credit card transactions will settle into your bank account as a deposit. As well, any real credit card numbers will produce an error.
If you would like to observe the flow of a transaction in detail, simply register for a program as a club member and process the credit card payment and any refunds by editing the invoice as an administrator under the "Accounting" > "Invoicing" section of your Uplifter Site. Afterwards, log into your Bambora account to see how the completed transactions appear in your transaction reports (NOTE: Future / pending installment transactions will not appear in your Bambora account).
Once you have completed all testing, we urge you to update your password information. Please ensure the selection of a secure password. All of your customers' credit card data is accessible by your Bambora account. Guard your password carefully and only share access to the account with individuals at your organization on an as-needed basis. Proper PCI merchant compliance requires you to create separate users for your Bambora account for each individual that requires access.
Once your Bambora account is Live, test credit card numbers will decline and cannot be used to test transactions.
Setting Your Account to Live
Once you've completed your testing and purged your test data you are ready to go live! Please send a 'go live request' to Bambora's Boarding & Activations team (applications.northamerica@bambora.com) to set your Bambora system to live status. Please be sure to note your Bambora account number with your request to go live.
Your Uplifter and Bambora accounts are two different systems. Both need to be set to Live individually in order to officially go live with your system.
Please allow 24 hours (or 1 business day) for the Bambora account to be set to live. Please let Garry Thomson (garry@uplifterinc.com) and Richard Gaudreau (richard.gaudreau@bambora.com) know if you need this request expedited. Additionally, please always copy Garry on any correspondence with Bambora so he can follow the progress from our side.
Once your account is live you will not longer be able to use the testing card numbers noted in the above section of this article. Please see Going Live for more information on purging and going live.