Index
Overview
To begin taking online payments through Uplifter your club must have a payment gateway and merchant account with one of our integrated partners, Bambora or Braintree.
The Merchant Credentials tab is found by navigating to Settings > Uplifter Settings > Merchant Credentials. In order to access the Merchant Credentials tab you will need the following permissions: Admin, Manage System Settings, Manage Merchant Credentials.
Lite
Bronze
Silver
Gold
Enterprise
Connecting with Braintree
Signing up for a Braintree account can be completed through their online application. For more information on their fees and requirements, visit their site at https://www.braintreepayments.com. Ensure you are on the correct country for your organization while reviewing their website.
Braintree Minimum Requirements for Application
Before proceeding with the application of any merchant account, especially one that will be processing online payments, merchant account providers will have minimum requirements that your organization and / or site will need to meet before being approved.
Braintree has very specific website requirements they need met before they will approve a payment gateway account and optional merchant account. For example, they need to know (and be able to test) that you have a site that will be able to process online payments.
You need your own, purchased URL to sign up with Braintree. During sign up you can specify your Uplifter URL as your 'Staging' URL.
Note that to use Braintree, you will required before going live, to Point Your Own Domain or Subdomain at your Uplifter Site. Braintree will not approve merchant accounts where your Uplifter site uses the Uplifter space. If you are not pointing your full website at your Uplifter site, you will need to select a subdomain such as "register.myclub.com" or "members.myclub.com".
They also need to make sure your site has specific policies and terms posted before approving your account. Most of these requirements can be covered by adding them to a general Terms & Conditions page you create and add to your public website. You can view the most up-to-date requirements in their Support Articles under their Risk and Security > Compliance section, specifically Ecommerce Website Requirements.
To have your account approved, you will need to ensure that your Uplifter site contains the following elements:
Legal name and "Doing Business as" name (or DBA)
Contact Information (at the minimum an email address, phone number, physical mailing address or 2+ social media accounts)
Pricing information

setup at lest one program or product for sale with a realistic price of what you charge

Refund or cancellation policies and instructions

e.g.: "All programs are eligible for a full refund up to the program start date listed for each program registration. Please contact the club office to process your refund." or "All programs are eligible for a full refund less a $30 administration fee up to the withdrawal dated listed for each specific program. Please contact the club office to withdraw."

Privacy / personally identifiable information policies

What do you do with your member information and do you share it with anyone
If your organization is affiliated to a larger regional or national governing body to which you transmit your members' personal information, you will want to ensure you describe this. Contact the regional or national organization for any compliance policies you may need to include with this regard.

Delivery times if you plan on providing physical items for sale

e.g.: "All programs will take place at the location indicated in the program registration. We do not offer any products for purchase one this site." or "All programs will take place at the location indicated in the program registration. Any products purchased on the site will be available for pickup at the club office within 48 hours of purchase.")

Terms and conditions if you plan on accepting PayPal payments via Braintree

(this can be incorporated into your policies on Uplifter and in the general terms and conditions of your site you can add something like "Additionally to the general terms and conditions, you will be required to accept the policies as required by each particular program during your registration process")
For more information on creating and editing pages, please see our article Public Website Management.
Complete and Submit Your Application
Once you are have determined that you would like to proceed with your Braintree account, click the "Sign up" link in the top right hand corner and fill in the online application.
As part of this application, provide them with the main URL of your website and include your Uplifter site as your Staging URL if you haven't yet pointed your domain at Uplifter. Braintree will not support any merchants where your final site will be at an uplifterinc.com URL address.
Braintree may review your site to ensure it includes the minimum requirements for account approval. Once your application is submitted, you should receive instructions on creating your login account credentials with their site.
Braintree may contact you to request additional documentation for final approval including ID to verify address information of account signatories or banking statements to assist with the completion of connecting your bank account to receive settlements.
Continue setting up your Uplifter site using our Club Quick Start Guide. Braintree may eventually need to test processing a program, so it will be important to get to at least Step Six: Create Your Programs.
Configuring Your Braintree Account
Once you've created your Braintree account credentials, log into their website by clicking the "Log in" link in the top right corner of their website and selecting "Production". At the same time, log into your Uplifter site and navigate to Settings > Uplifter Settings > Merchant Details. If you do not see the Merchant Details tab, be sure that you have allotted yourself the Manage Merchant Credentials permission within Uplifter.
Once logged into your Braintree account, navigate to Settings > Processing.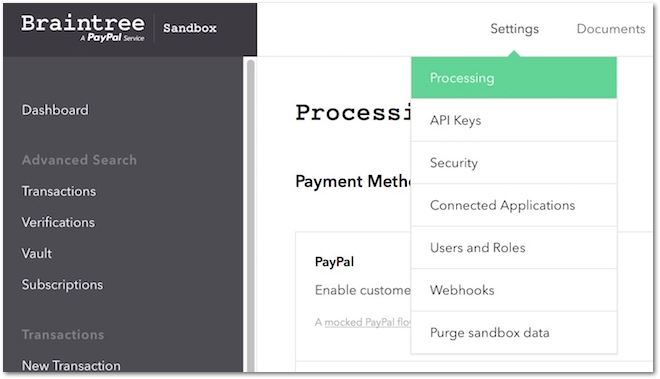 You'll want to connect with Braintree and their support team to identify what processing security settings make best sense for your organization. At bare minimum, Uplifter suggests that you enable CVV collection. To do this:
Scroll down to the Fraud Tools section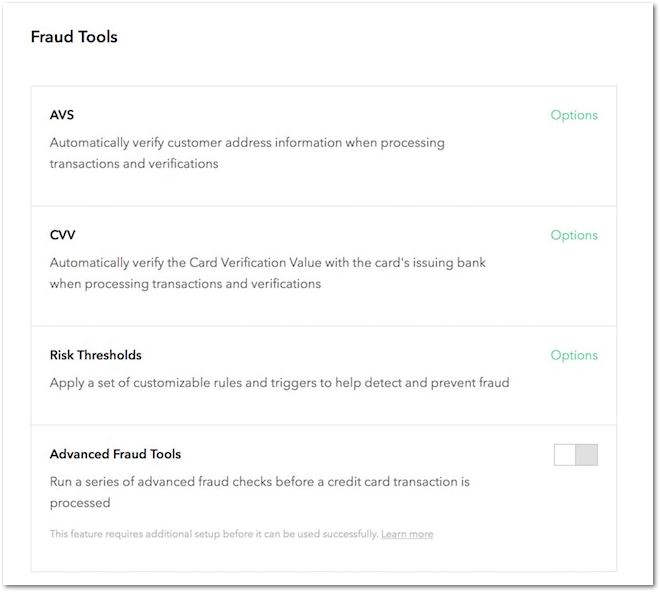 Click on Options beside the CVV section
Under Reject Transactions & Verification If:, select "CVV not provided" and ensure "For Any Transaction" is selected.
Select any other parameters you would prefer transactions to be rejected (eg, you would like Braintree to reject any transactions when the CVV does not match or when the bank cannot verify the code).
Click Save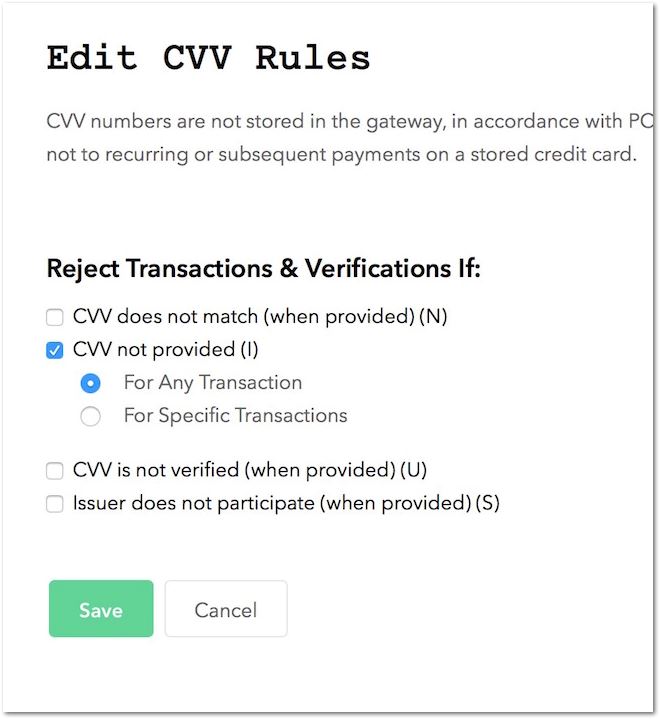 If you would like any transactions to be rejected based on address verification, click on Options beside the AVS section
Under Reject Transactions & Verification If:, select any conditions that you would like transactions to be rejected (eg, you would like Braintree to reject any transactions when the Postal Code or Street Address does not match). Enabling more features will provide a higher level of users that may encounter errors while checking out, but will conversely reduce your risks with regards to processing fraudulent transactions.
If your organization chooses to process transactions where payments are not collected immediately upon checkout and only installment payments are automatically processed in the future, Uplifter recommends that you enable "Card Verification" under the Vaulting section. Note that this will result in your members' cards to be "authorized" for processing and may see a pre-authorized transaction (that will never be settled) on their credit card statements with your organization. Note that no fees are collected through this process.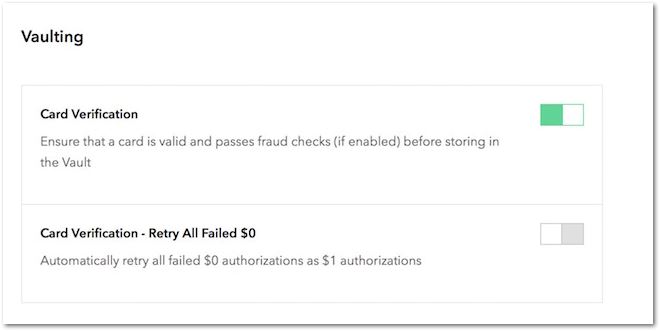 You are welcome to configure any other additional settings within your Braintree account, including having Braintree email receipts along with the invoices sent by Uplifter. Connect with Braintree support with regards to these settings.
Now that your Braintree account is configured, you can create your access credentials to ensure that your Uplifter site can process transactions within your Braintree account. In Braintree, navigate to Settings > API Keys.

From here:
Scroll down to "API Keys" section
Click on Generate New API Key

This should automatically generate your credentials that will appear on the screen.

Click "View" to see the details of your credentials. Keep this browser window open.

Return to the browser window for Uplifter and complete your Uplifter configuration
Uplifter Configuration
To proceed with the next steps please select the Payment Methods tab. If you have not yet setup a Credit Card payment method, select the yellow, Credit Card option, else click ADD PAYMENT METHOD.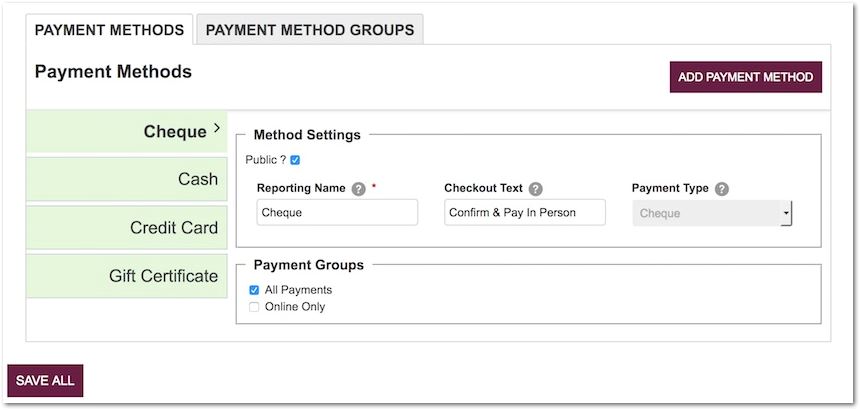 Check the box next to Public and, if desired, update the phrasing in the Reporting Name and Checkout Text fields. Select the Payment Type "Braintree Credit Card." You can also select which payment method groups you wish the credit card checkout option to be a part of. Uplifter recommends that it is part of both of the default groups: All Payments and Online Only. For more information on payment groups please see our article Payment Methods.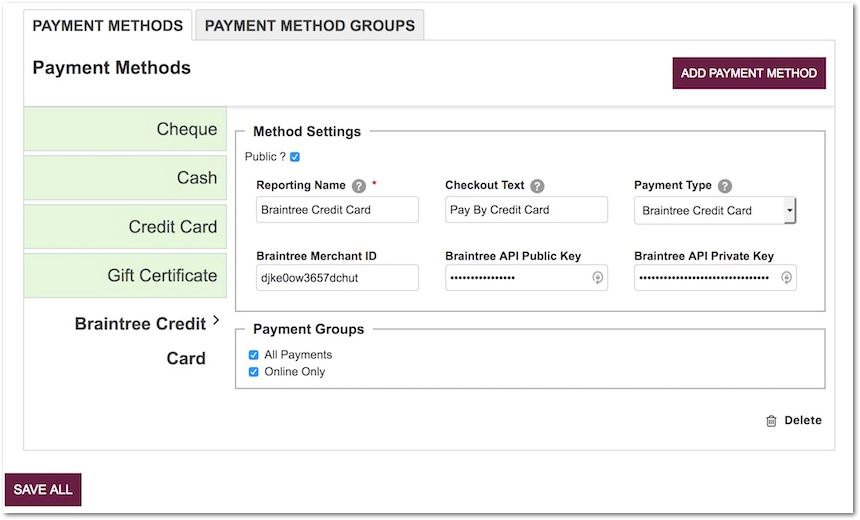 Reporting Name: The name that will be used on reporting to display this payment option.
Checkout Text: The desired text that will display as a button during checkout.
Payment Type: To connect with Braintree this has to be set to Credit Card.
To enter the next three values, navigate back to your Braintree browser window.
Copy the "Merchant ID" into the Braintree Merchant ID field.
Copy the "Public Key" into the Braintree API Public Key field.
Copy the "Private Key" and paste it into the Braintree API Private Key field.
Final Steps
Select Save All on Uplifter
Set the payment method to Public
Begin taking credit card payments
Now that you have all of your fields you are ready to hit Save All on Uplifter. Doing so will check your values with Braintree and, if all is well, save these values and set your payment method from yellow to green. This indicates you are successful!
Now it's time to mark Public again and, if you missed it at the start, update the Checkout Text field if desired. Select Save All again and you are ready to begin taking credit card payments!
PLEASE NOTE: For further information on how to configure additional details regarding your Braintree gateway account, including automated credit card email receipts, setting up additional users and providing settlement and transaction reports, please contact Braintree or consult their website's user documentation.
Testing Your Braintree Account
Once you've configured your account you are ready to begin testing. Braintree production accounts will only process live credit card data for proper settlement. If you process transactions against real credit cards during your testing phase, we recommend that you refund those invoices before purging your registration invoice data and going live with Uplifter. We recommend that you try at least one credit card transaction so you can experience the flow that your members will experience and to ensure that your credit card form operates as you expect.