Index
Overview
For clubs and organizations who have completed their setup and are ready to start registering members, there are a few final steps to going live. These steps involve a checklist to ensure you've hit all the requirements, purging your test data, and setting your payment gateway and Uplifter site to Live.
Lite
Bronze
Silver
Gold
Enterprise
Some features in this article may only be available on certain tiers.
Final Checklist
The final checklist consists of three main parts. You will want to ensure that you have reviewed and run through all three portions before going live.
Basic Setup Checklist
Please ensure that you have...
Tips
You'll want to make sure that your season's start and end date encapsulate your programs. That is, if your program runs March 3rd to March 29th, you would want your season to "wrap" it with a start and end date of March 1st and March 31st. Note the "cushion" provided on either side, pushing the season's start and end date to begin before and end after the program. You will want to consider all of your programs within the season when setting the season start and end dates.
Testing Checklist
For a comprehensive outline of the items below, please see our article Testing Your Uplifter Site.
Please ensure that you have tested...
Several registrations for each category you offer, to ensure that they are adding to cart correctly (including verifying any restrictions or warnings you have in place).
Your discounts and installments and ensured that they are both applying/displaying properly.
Your checkout options, verifying that offline and online payment options are presented (based on your preference to offer them).
That, if you have enabled online payments, the gateway is connected and functional using our test credit cards - note that your gateway account must be in test mode for these cards to be accepted.
Your volunteer requirements to ensure they are restricting registrations as expected, as well as to confirm the list of positions is large enough for your expected sign ups.
Comfort & Understanding Checklist
Please ensure that you understand and are comfortable with...
Processing, refunding, and reviewing credit card payments withing Uplifter.
Reviewing credit card payments within the system of your payment gateway of choice.
Withdrawing participants and changing their program registrations.
Pulling reports and reviewing the data for your needs.
Going Live with Your Payment Gateway
If you are confident that you have completed your testing and are ready to go live you will want to contact your payment gateway company. You will want to request to 'Go Live' with their gateway and remove yourself from their testing phase. Note that this is not directly correlated with your Uplifter site. That is, you will have to set your Uplifter site to live separately (as detailed below). Once you have received confirmation from your payment gateway that your account is live you will want to cease all credit-card-based testing.
Purging Test Data
Once you have concluded your testing and have verified all elements in the above checklists, you are ready to clear/purge your test data. This will remove your invoices only, while offering an opportunity to also remove any other unwanted items like test participants or member accounts.
Purging Invoice Data
Navigate to Settings > Purge Site Data
Mark "Registration Invoice Data"
Select Purge Data
To clear your site data of all invoices and invoice related data navigate to Settings > Purge Site Data. Note that this page will only be available if your site is not set to live already. On the Purge Site Data page select the type of data you wish to purge. Presently, only Registration Invoice Data is available for clubs. Select the Purge Data option to discard all registration data.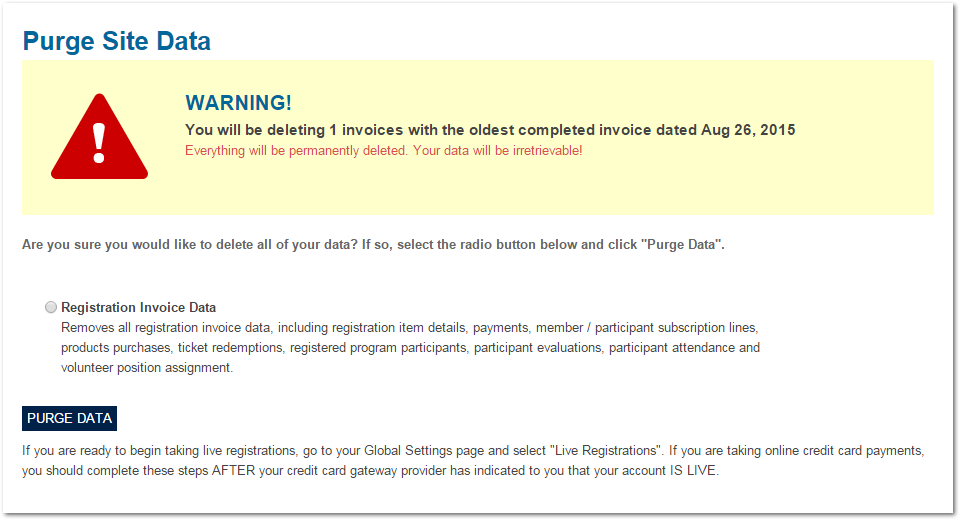 Note that this action is irreversible!! Once you have purged your data you will be greeted by the confirmation message.

There are certain circumstances based on number and/or age of invoices where you will not be able to manually purge your date. In these instances, please contact us at support@uplifterinc.com for assistance.
Purging Participants
Navigate to People & Accounts > Members Accounts
Select the member account affiliated to the participant
Select Participants from the member account sub-menu
Select to Delete any unwanted participants
It is likely that, during your testing, you have created test participants that are no longer needed. Once you have purged your site data, and these participants are no longer attached to any registrations, you will have the option to remove them. This is performed via the associated member's account. More details can be found in our article Participants - Deleting A Participant Profile.
Purging Members
Navigate to the member's account
Select to Delete the member
During the testing process it is possible that you have also created test accounts. If this is the case you may wish to rid your site of these test accounts. Once you have purged your site data you will have a chance to do just that. In order to do so you will want to navigate to the member's account and select the option to Delete

the member. More details can be found in our article Members - Deleting A Member Account.
Update Your DNS
If you are going to be updating your club's DNS records to have a single URL or subdomain you will want to perform these measures before going live. This can often take up to 24 hours to resolve, so be sure you have this as part of your Go Live schedule. For more information on this process, please see our article Connecting Your Site(s).
Going Live with Your Uplifter Site
Be sure to review and ensure your programs and products are set to Public status. Your final step is to go live with your Uplifter site. To do so, please be sure that you have completed all other elements from this article. Thereafter, navigate to Settings > Uplifter Settings > Site Options tab. Here you will find the "Registration Status" section at the top of the page. Mark this box and select Save All.

You will not be able to reverse this action, so if you happen to do so by accident please contact us support@uplifterinc.com to renege this setting.