Index
Overview
Coaches, teachers, mentors, group leaders - Instructors come in many variations, but their functions are often the same within organizations. In order to make the most of these individuals you will want to create their instructor profiles within Uplifter, assign them to various elements, and make sure they are using all the tools at their disposal.
The Instructor page is found by navigating to People > Instructors. In order to access the Instructors page you will need the following permissions: Admin, Edit Member, Manage Instructor.
Lite
Bronze
Silver
Gold
Enterprise
Instructors
Instructor profiles are supplementary profiles to an existing member account. In order to be properly assigned and interconnected as an instructor withing the Uplifter system, it is required that they first create a member account. Once they have, you can complete the instructor profile.
Add an Instructor
Select ​​ Add Instructor
Enter instructor's name
Connect a member's account
Select Save
To add an instructor to your club/organization select
​ Add Instructor from the toolbar. On the add instructor page enter in the name of the instructor.

Next, select
​ Add Member Account. Begin to type the member's name in the offered field and select the correct member from the drop down. Note, the instructor must have created a member account before this is possible but can be done at any time. Select Add, then select Save to create your new instructor.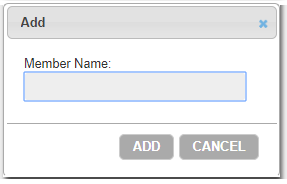 Custom fields can also be added to instructor profiles via the Custom Fields feature. This will allow you to apply even more information to a instructor's profile (see Custom Fields for more information).
Edit an Instructor
Select Edit ​​
Update the instructor's information
Select Save
Updating an instructor's profile is quickly done by selecting the Edit ​
​ icon to the right of the profile in question. Update the elements you wish to change, then select Save to keep your changes.
Delete an Instructor
Select Delete ​​
To remove an instructor from any listings on the site, select the Delete option to the right of the undesired instructor listing. This will remove them from the instructors list as well as remove them from their assigned positions throughout the site.
Assigning an Instructor
Within Uplifter you can assign coaches to both participants and groups within your program. This will link them up with participants in various ways. For those coaches who are only associated to participants by being assigned to program group, they will have temporary access to the listed participant's profiles.
Assigning an Instructor to a Participant
Navigate to the participant's profile
Use the select instructor drop down to add any desired instructor(s)
Select Update
Many participants within your club/organization may have a specific instructor that they should be associated with. To do so, first navigate to the participant's profile (People > Participants > select participant). On the participant profile page you will see a Select Instructor drop down. Use this drop down to select an instructor, adding them to the participant's profile. Then select Update on the participant profile.

By doing so, you will associate/assign the coach to the participant. This gives them access to the participant's profile (assuming they also have the correct permissions). For suggestions on which permissions to offer your coaches, please see our article Permissions - Example Groups.
Assigning an Instructor to a Program Group
Instructors may also be assigned directly to programs or program groups. To do so, please navigate to the program view screen (Products & Programs > Programs > View) for your desired program. On this page you can organize your participants into groups as desired (see Programs - Create Groups for more information). Whether you choose to group your participants or not, you will have the option to assign an instructor by using the Search for Instructor field.

To add an instructor, simply begin typing the instructor's name into the field and select the correct option from the suggested list. Please note, instructors added to a group will be able to track all participants that are part of the particular program group until the end of the program plus the number of days identified in your Uplifter settings under "Instructor Program Expiry" (see Settings - Site Options for more information). Tracking participants includes viewing and editing all details within the participant's profile.
Instructor Tools
Uplifter offers various tools for instructors to complete their assigned tasks as well as do what instructors do best. The list of tools for instructors is always growing, so be sure to check back as well as keep an eye on all of our updates through the About Uplifter link on your admin side.
Evaluations
Evaluations are a large part of an instructors tool set within Uplifter. Evaluations allow an instructor to take attendance and mark their participants with club/organization-standard goals and tests. For more information on evaluations please see our article Evaluations.
Check In
The check-in tool allows instructors to record their time within Uplifter. This is especially useful for those who don't charge the participant, but rather the club/organization, for their time and services. For more information on the check-in tool please see our article Using The Check In Feature.
Custom Goals
Within Uplifter instructors can create custom goals for their participants. This allows instructors to help their participants focus on specific styles, forms and feats. In order to assign a goal to a participant's profile it must first be added to the goals page within your Uplifter site (Settings > Goals). Custom goals are viewed, added, edited, and removed via the participants [Development Goals] tab (People > Participants > select participant > [Development Goals]).
Add a Goal
Select Assign A Goal
Select a goal and specify dates
Select Save
Adding a goal to a participant's profile can be performed by selecting Assign A Goal. This will open a pop-up that allows you to select a goal by beginning to type the goal name and selecting the goal from the suggested list. Thereafter, you may set a date range in which this goal is to be met/accomplished. Finally, select Save to keep your changes.

Edit a Goal
Select to Edit ​​
Update the goal dates
Select to Save
To update any existing goal on a profile, select the Edit ​
​ icon to the right of the goal. Update the goal dates as desired and select to Save. You cannot update a goal directly, but you can delete the goal and re-add it if you've selected the wrong goal.
Delete a Goal
Select to Delete ​​
To remove a goal from a participant profile select the Delete ​
​ icon to the right of the undesired goal.
Mark a Goal
Set the goal's mark
Select Mark Goals
To mark a personalized goal, use the drop down on the left of the goal to select either Achieved or Not Yet Achieved. Once you have updated all of the goals you wish, select Mark Goals to save the changes. Once saved you will have access to a history of attempts and successes for the goal. If the goal is a part of an evaluation you will also see the participant's goal history listed on the evaluations.